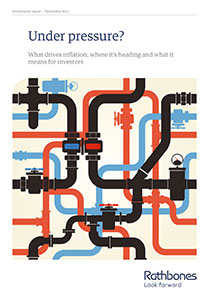 Under pressure?

What drives inflation, where it's heading and what it means for investors.
Whether your clients are accumulating for the future or drawing down on their wealth in retirement, inflation is a key factor.

Rathbones new personal inflation calculatoris designed to give a prediction of what inflation means to them.
Beyond the headline rate of inflation used in the press, the calculator looks at what your clients spend their money on to create a personal prediction that can be used as an indicator of how hard their investments will have to work.

Inflation Trends

Of course, knowing what inflation is today is only part of the picture. Knowing what drives it and where it is headed are also valuable insights when it comes to protecting and growing their wealth. You can read more about Rathbone's thinking on the long-term outlook for inflation – on their specially created inflation hub.

If you would like a more detailed report on the Rathbone view on inflation, what drives it and where it's heading, please read this investment report – Under pressure?